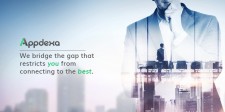 Connecting those that are craving to inspire. Ones that have a revolution ringing in their heads. Ones that are looking for people that dream just as big as them. Connecting Dreams. Connecting Enterprises.
SEATTLE, September 20, 2017 (Newswire.com) - Despite the growing rage of social media networks and their usage to promote business enterprises, it seems that startups still fail to exploit the potential of the online ecosystem. A key hurdle is 'the lack of the perfect online application for their business'. Though there is no dearth of mobile app developers or marketing agents in the app development industry, the network still seems to be missing something.
A dynamic team of online analysts brought together from various sectors of the mobile app industry deciphered this missing link and integrated it into Appdexa. An extensive yet user-friendly analyst platform enables startups to choose, connect and compare the leading mobile app development companies and mobile app marketing companies. It aims at empowering innovation, offers a platform where young startups can meet the right agencies that can build and boost their business onto the online realm.
All in one inbound analytics firm that finds you the best mobile app partner for your next big app.

Twinkle Kalkandha, Product Manager
What distinguishes Appdexa from other globally acclaimed competitors is the Exclusive Comparison Report computed on its COMPARE section. The feature enables budding enterprises to compare the services of different mobile app development and marketing enterprises. With ranking from Alexa and Appdexa, it's ensured that every choice is an informed one. Now flip both sides of a coin and make sharp decisions!
Despite being a nascent firm, numerous app development and marketing companies are registering at an amazing rate with Appdexa. Its well designed and curated metric system is what brings the leading App development companies to the portal. The ones with an outstanding performance level are awarded Badges, giving them global outreach and inspiring projects to achieve. An unbroken credibility is established between the enterprises communicating on our platform with constant profile updates including client reviews.
Appdexa holds a vision that stands awake at the dawn of a revolution that is yet to come. Each day is a new day to create, to inspire and to change. Bolstering choices with informed analysis, Appdexa decodes complex data to useful resources for innovators across the world.
About Appdexa
Appdexa is a U.S. based online analyst firm that offers a metrics system for young startups to choose, compare and connect with an extensive database of leading mobile app development companies in the world. The agencies are bolstered with a comprehensive analysis and get a chance to connect with inspiring innovators, bringing the best to the world.
Source: Appdexa Inc.
Share: